It all started with a simple question, 'Mom, dad, have you ever thought about bottling our milk?' The answer to Maggie's query three years ago has breathed new life into the Bickel family, owners of New Horizon Farm and Dairy, and setting the operation onto a path of profitability, well on its way to becoming a third-generation farm.
By partnering with Market Wagon, the Bickels were able to fund the switch to bottling their cows' milk. And they are able to reach customers with old-fashioned milkman deliveries across the Cincinnati, Dayton and Columbus metro areas without having to drive the routes themselves—no small thing for this completely family-run operation (from left to right -- Emma, Jackie, Maggie, Carson and Donald)!
New Horizon Farm and Dairy began in 1964 by Howard Bickel, Donald Bickel's father (and Maggie's grandfather). For the first half-century, all milk was sold wholesale as part of an area co-op.
But by 2018, Donald and his wife Jackie were talking about an exit strategy for the farm. At the time, milk prices were the same as they had been in 1982 ($14 for 100 lbs. of milk or about 11 gallons). To put things into perspective, thanks to rising inflation, that $14 in 1982 should have been worth $36 in 2018.
And that's when Maggie (pictured above) asked her parents that fateful question—had they ever considered bottling the milk themselves?
Jackie admits she and Donald didn't take Maggie very seriously until Maggie developed a business plan for an FFA project that turned out to be an award-winner, garnering second place in the national competition for entrepreneurship (see picture below). Jackie admits with a laugh, it still took lots of late-night conversations to get her 'hardheaded husband' on board.
"We realized we had nothing to lose," Jackie said.
One of the key pieces was Market Wagon's digital platform. Sales from meat, eggs and baked goods at the farm provided the revenue necessary to purchase used bottling equipment.
All the components were in place in December 2019 when New Horizon submitted paperwork to the Ohio Department of Agriculture to be inspected, the final step before they could start selling milk.
As fate would have it, the pandemic would begin several months later. New Horizon's bottling facility was approved within a week. At the same time as neighboring farms were dumping milk out because restaurants and schools no longer had any need for the product, the Bickels suddenly had the ability to sell to customers directly. The demand was so immediate, most of the first bottles didn't even have labels (pictured below -- Maggie and Donald with the very first gallon of milk!).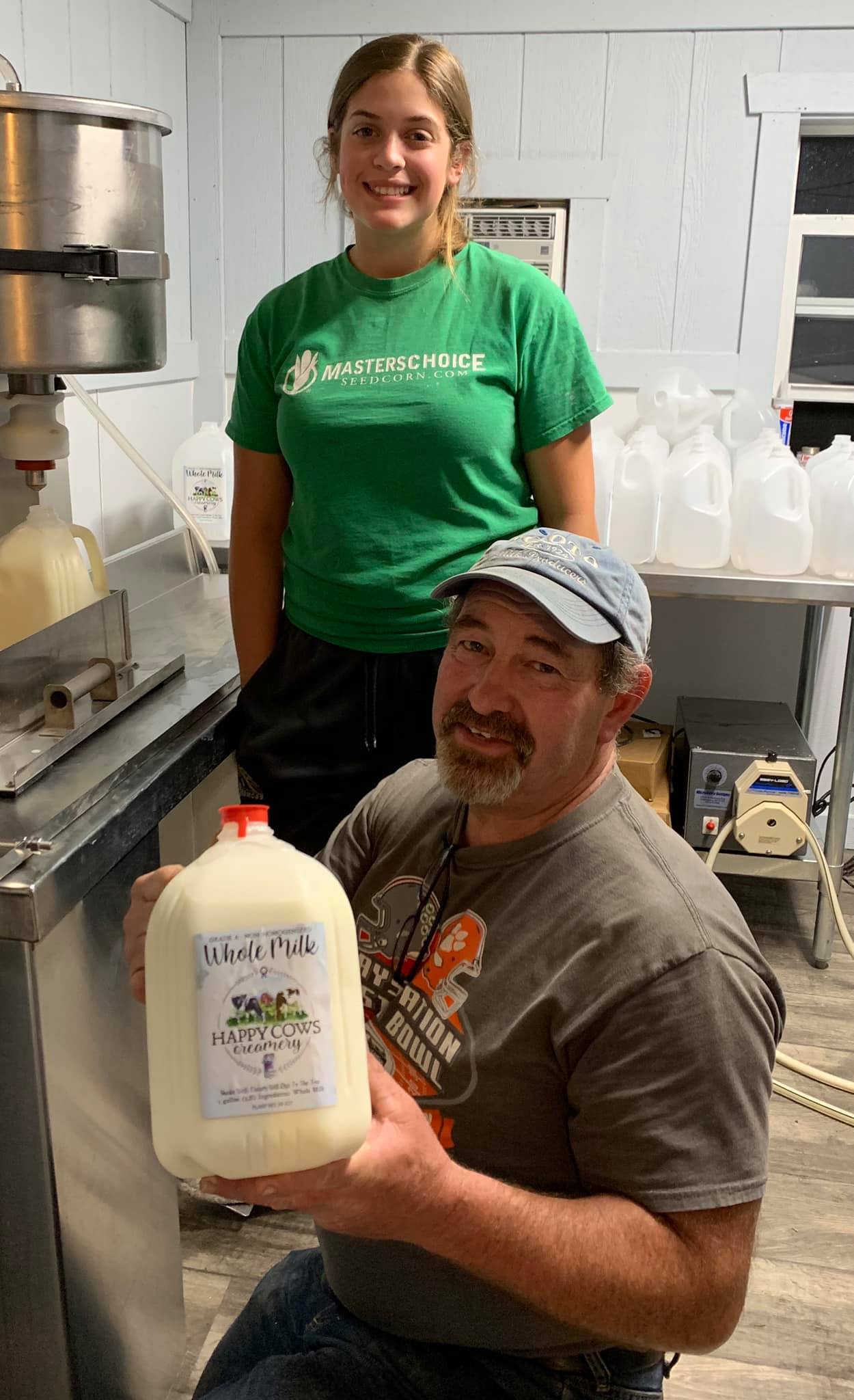 "Consumers suddenly realized they couldn't depend on traditional supermarkets when there was no milk on the grocery shelf," Jackie said. "As an essential business, Market Wagon was the only option outside of customers coming to the actual farm. We haven't looked back."
Don't be confused. New Horizon Farm and Dairy does all dairy sales under the brand name "Happy Cows Creamery." It now comes in seven flavors including gourmet options like orange creamsicle or mocha along with other products like sour cream as well as cheese curds in a variety of flavors.
"I am so grateful to the customers of Market Wagon," Jackie said. "Their support has allowed us to grow."
New Horizon Farm operates on 300 acres. The herd is made up of Holstein cattle, a breed known for its large milk production, as well as Ayrshires, a hardier breed which produces a milk that converts well into cheese, yogurt and other dairy products.
All cattle have access to pasture every day. During the winter months, diets are supplemented with hay and grain which is grown at New Horizon (more than 20,000 bales a year!).
The work is nonstop. Each of the roughly 50 cows must be milked twice a day, 365 days a year. Everyone in the family is still involved with operation even today, even Howard who 'retired' almost a decade ago.
Things are continuing to grow to meet the needs of customers. Jackie hopes to soon offer yogurt to Market Wagon customers and sell ice cream at the farm's retail store.
While a decade ago, Ohio's Clinton County had 12 dairy farms, New Horizon is the only one still operating. It means a lot to Jackie that just four years after plotting their own exit strategy, she can now confidently assert, "this is going to work," all thanks to her teenage daughter's initial question and ensuing business plan.
Because while milk prices have risen from $14 to $23 for 100 lbs. at the co-op, New Horizon is makes roughly $70 for each 100 lbs. when they bottle it themselves—meaning the farm has a very bright future.
As for Maggie (see photo above, bottling milk for a Market Wagon delivery), now 19, she's a student at Ohio State, with dreams of taking over the creamery operation one day.
"It's a blessing that Donald and I will be able to see New Horizon transition to our children one day and they will be able to continue building on the foundation established by my father-in-law decades ago," Jackie said. "We're proud of Maggie's determination that turned her dream into our reality and amazed as the success we've experienced in the last two years. As the creamery continues to grow, we can't wait to see what Maggie and her siblings will accomplish in the years to come."
Meanwhile, Donald and Jackie, who first met at a dairy show more than 25 years ago, still show cattle to this day (see photo below).
Market Wagon and its convenient access to customers is an integral part of the success at New Horizon. Jackie knows customers love the nostalgia of the milkman making a weekly delivery to their door.
"Market Wagon was there when people decided they needed to shop local and support local food and farms," she said. "We barely have enough time to get things done at the farm. We would need to hire a whole workforce to do deliveries ourselves, it's just not practical. It's wonderful to partner with others who have the same vision that we have for local products."
As for the milk itself, you cannot go wrong with the original. Like all flavors, be sure to select the size you want on the dropdown menu—whether pint, half-gallon or gallon. Because it is not homogenized, you should shake it before drinking because the cream will rise to the top.
​

The chocolate milk is a very popular choice too. Jackie says it tastes like a milkshake, thanks to the secret recipe the Bickels developed.
But her absolute favorite flavor is the strawberry milk. Like all the milk from New Horizon Farm and Dairy, there are no artificial dyes or colors—a decision motivated by her son's classmate who had food allergies.