When you've poured your heart into your small business, there's nothing quite like receiving a cease-and-desist letter from a billion-dollar company. But that David vs. Goliath scenario was the situation Dean and Jayne Bredlau, owners of The Greensted, found themselves in back in 2019. It forced both a change in name and brand that was both disruptive and traumatic. But now, looking back, having slayed their giant problem, they agree sometimes it's a crisis that cultivates growth and an opportunity.
By partnering with Market Wagon, The Greensted is able to be greener than ever, all while helping the Bredlaus find a new revenue stream by selling customers who may never make it to their store.
Dean and Jayne met 8 years ago. Dean had always wanted to get back into farming and Jayne was curious if she could develop and grow a business brand. After a failed summer gardening experience, they looked for ways to be healthier and learn what could be grown in the cold Minnesota climate. Microgreens, cultivated indoors, kept popping up in their research.
For the Bredlaus, it was a match made in microgreen heaven. Dean grew up on a dairy farm and was fascinated by the growing process. Jayne was keen to learn the nutritional value and culinary uses of microgreens.
At the time, Jayne was working in the high-stress environment of convention services. In August 2018, she left her position and transitioned into building up the business and brand they had named "My Sweet Greens MN." What started as a side hustle quickly expanded into a thriving urban farm and microgreens operation. Dean worked as a quality assurance technician for a food packaging company until July 2021.
"Combining our work experience, interests and skills, it was go time. We are now all in. With no outside income, we have worked endless hours and done some crazy things to keep both us and our business afloat."
For the first three years, Jayne and Dean sold at farmers markers and a few stores under My Sweet Greens MN. Everything seemed to be going well until they opened the letter from an attorney representing Sweetgreen, a publicly traded restaurant chain with more than 175 restaurants in 16 states. The letter demanded the couple immediate stop using their name and start using one that had less in common with the Sweetgreen trademark—no simple request for the Bredlaus after years of hard work building their brand locally.
To put the underdog situation into perspective, in 2019, the year the cease-and-desist letter arrived, Sweetgreen reported revenue of $274 million. Meanwhile, Dean and Jayne were still operating out of their garage (see below), selling about $16,000 a year.
"Apparently the power of social media worked," remembers Jayne with a chuckle. "Our tiny green leaves were bigger than life online."
She may be able to joke now, but it was no laughing matter at the time. There were many incredibly hard days as Jayne set about building a new brand identity, with a new logo, website, social media, product labels etc. All the while, production and distribution had to continue for their customers.
Enter "The Greensted." It combines the words "green" with "homestead" to create a "Green Place." It makes sense, is memorable, and, just as important, there's no other business with a registered trademark or online presence using the name. Looking back, Jayne and Dean believe the switch that was forced upon them has been for the absolute best.
"We made some pretty good lemonade out of unwanted lemons," Jayne said. "Sometimes the things you fear the most turn out for your good. The struggles make you stronger."

In what should be no surprise, The Greensted is legally filed as a Limited Liability Corporation (LLC) and is an officially registered trademark. The Greensted is here to stay!
The name change was official in Jan. 1, 2020. The next big step for the company was in March 2021 when The Greensted moved out of the garage and into its own custom-built facility (see below) in Zumbrota, about 50 miles south of Saint Paul. The facility houses a dedicated growing space for microgreens and salad greens, a large work room and a retail grocery store. The store offers roughly 500 items which are entirely regionally sourced, many from vendor friends they've met at various farmers markets and events.
The Greensted produces about 100 lbs. of microgreens and 55 lbs. of salad greens per week. Most veggies are supplied to local grocery and co-op stores. Dean and Jayne also have one acre outdoors to grow seasonal produce which they distribute through Community Supported Agriculture (CSA) memberships which run from June through September each year.
And while The Greensted is just a 5-minute drive from the Bredlau home, Jayne says it's nice to finally be able to park in her own garage and not to live amongst packaging and supplies that were often stacked and stored throughout the house.
"Managing a six-figure business from a recliner and two coffee tables was a horror and a hoot," Jayne said.
Jayne heard about Market Wagon in February. She was excited to find a new location to sell microgreens, Wacky Salad and garden produce. She's found Market Wagon to be the perfect place to sell extra produce that would otherwise go to a local farm for feeding livestock or be composted.
"Although we try to use, reuse and up-use everything, giving away our harvested produce to feed animals is an expensive way to run a business," Jayne said.
Instead, she is able to bring in revenue from that extra produce by selling to hungry customers interested in supporting Local Food on Market Wagon. By far the most popular item through the summer is the veggie box, which contains up to 15 lbs. of the best and freshest vegetables like beans, tomatoes and melons.
"When selling online we don't get to meet the end user, so I include a simple thank you card in each box with a short message describing the produce if it was odd (round zucchini anyone?), or a recipe and always an invitation to visit our farm. We are the REAL farmers behind the brand."
Jayne's favorite site feature on Market Wagon is the messaging option because she likes connecting and communicating with customers directly. "One customer wanted to order the veggie box but was allergic to peppers and had too many tomatoes. So we customized her box accordingly."
​

One couple even took them up on the offer to visit. They made the 45-minute drive from the Twin Cities just to explore and experience The Greensted and the farm store (see below) for themselves.
"They took home a cooler full of fresh goods and ordered a case of dill pickles from the store they liked them so much!"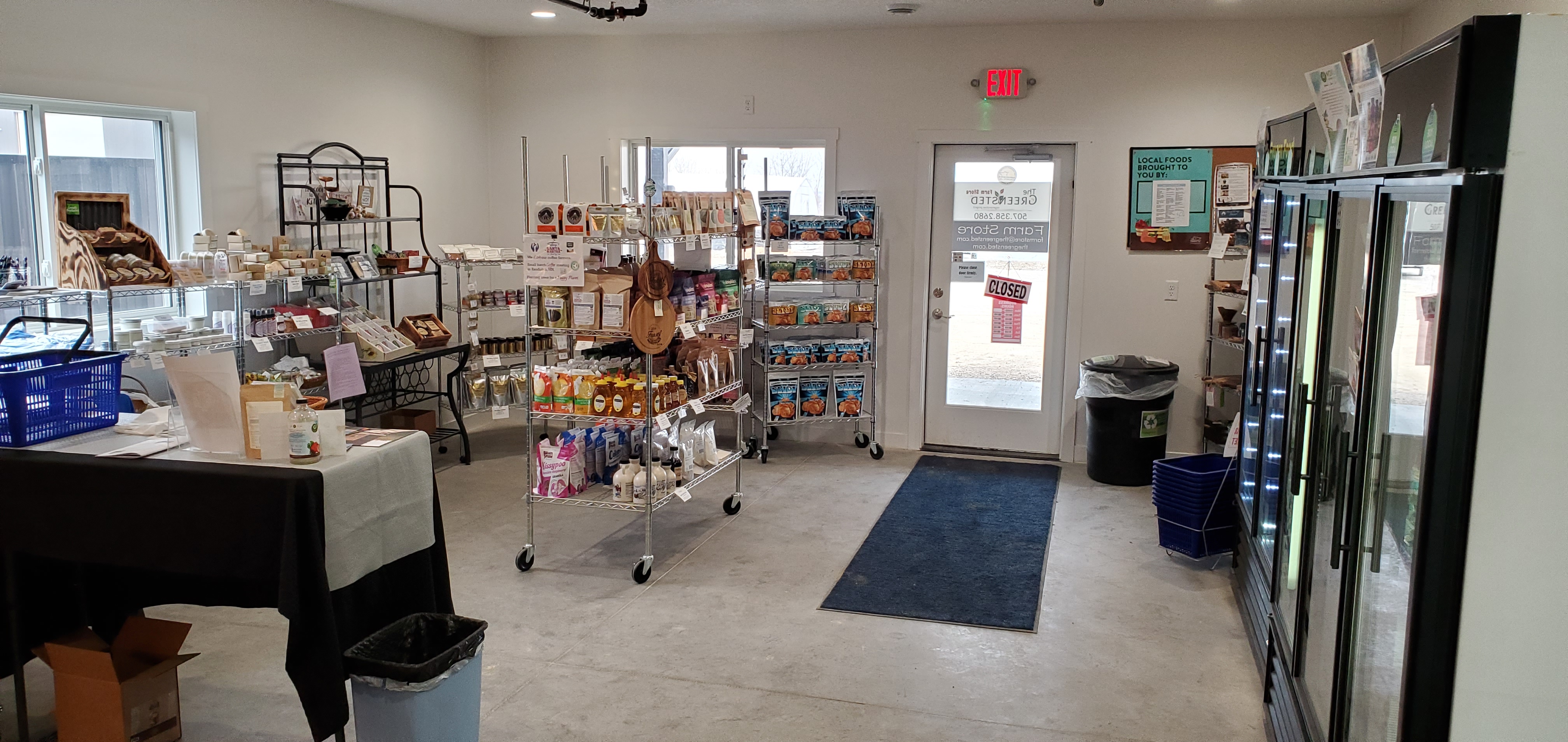 So what's the big deal about microgreens? The nutritional value is about 40% more than the fully-grown counterpart, which means you don't have to eat a truckload to get the nutrients. Microgreens add bright colors and intense flavors to almost any food from cocktails to dessert. Although they're most commonly put on salads and sandwiches, they truly be used just about anywhere.
"My mission is to bring microgreens to every kitchen table because everyone needs more value for their food dollars," Jayne said. "With microgreens you get everything—flavor, nutrition and value."
What was once a hobby is now a multifaceted urban farm business which employs Jayne, Dean and three part-time employees.
"It's our livelihood. When you support a producer, your dollars stay in the community. That is key," Jayne said. "It means we can support local businesses and pay our bills. Please don't ask a small producer to reduce or discount their products. The margins are already thinner than thin. We pay retail for all of our equipment, supplies and inputs. We are not subsidized. So those costs must be covered in our end pricing."
When it comes to what is sold on Market Wagon, Jayne recommends The Wacky Salad. The Wacky Salad with pea shoots is a top seller in stores. The Wacky Salad with sunflower shoots is a favorite with farm store customers. Both are sold in a reusable zip-top bag which should remain fresh for at least two weeks. Don't forget to scan the QR code on the front of the bag to find out more about the farm too!
Jayne and Dean are constantly being asked what their favorite microgreens are. Jayne's favorite is the Zesty Mix because she likes the mustard and arugula flavors. Dean's preference is the Sunflower Shoots, with its nutty and crunchy qualities. But the biggest seller in stores is the Classy Classic—a mix of broccoli, kale, kohlrabi and red and green cabbage which is full of powerful antioxidants!
Be sure to follow The Greensted on Market Wagon so when the veggie box is ready to be sold again this spring and summer, you will be the first to know!