The difference, Brant Stooksbury's customers tell him, is "night and day." 
Brant is the owner of Stooksbury Dairy Creamery. He never gets tired of hearing from customers who enjoy his "udderly delicious" milk so much that they simply refuse to return to the highly-processed milk sold in large grocery stores and big-box chains. 
Although he's a fourth-generation farmer, Brant started his creamery three years ago. He found success almost immediately thanks to his partnership with Market Wagon, which is able to deliver his old-fashioned creamline whole milk and connect to customers far removed from his farm.
"I had sales the first week. It just grew from there," Brant said. "As Market Wagon progressed, so did my sales."
By working with Market Wagon, Brant can focus on the day-to-day operation of his farm in Jefferson City—located about 30 miles northeast of Knoxville—as well as its Saturday farm store.
When each Thursday market day rolls around, Brant doesn't have to worry about the delivery or logistics part of his business. He knows the online platform has him covered.
"The main thing is that they can reach so much of a larger area than I could ever go to," Brant said. "I couldn't make the stops to all the counties that I do—it would just be logistically impossible for me. But with them providing the service, you can be two or three counties over and still get Stooksbury Dairy Creamery milk."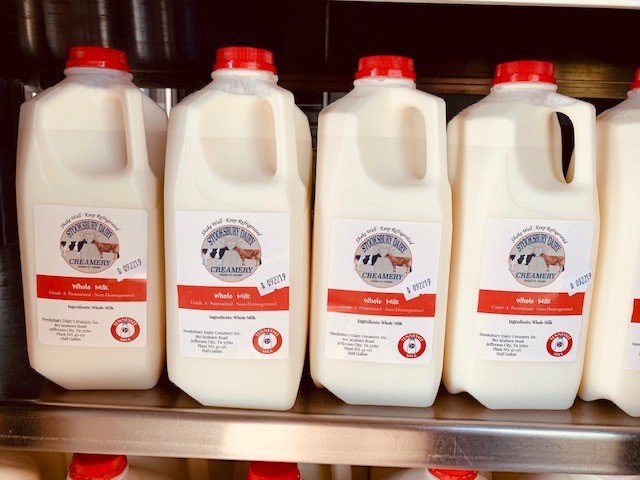 The Stooksbury farm has been in the family for four generations. Originally, it was mostly as a beef and vegetable farm. Brian Stooksbury, Brant's father, decided to start a family dairy in 1986. As the operation grew, the family eventually was commercially milking more than 200 cows at a time.
When Brant got into college, however, he wanted to pursue more of a "direct-to-consumer" marketing approach. The end result was Brant and his wife Kayla opening their own creamery — one in which just 40 cows now are milked twice a day. 
These cows are mainly Holstein and Jersey breeds. Holstein cows are known for producing more volume of milk. Jersey cows are known for producing milk with higher fat content. Brant believes this combo gives his customers the "best of both worlds."
Cattle comfort and nutrition are also key. Cows are free to roam the pasture or stay in the barn. When in the barn, cows snack on silage that is made from non-GMO corn and hay harvested from the Stooksbury farm. Calves also receive a gallon of cow's milk per day.
With healthy and happy cows, Brant can offer the freshest milk around. He doesn't take anything out of the milk or add anything back in — unless, of course, it's the chocolate and sugar for his delicious chocolate milk. Of course, the chocolate milk is a favorite for Brant and Kayla's children Lyla and Rhett.
The milk at Stooksbury Dairy Creamery is creamline milk. That means it has not been homogenized, so the cream will naturally separate and rise to the top. Just give it a quick shake before you try to drink it.
​

"I also pasteurize my milk in a vat pasteurizer at the lowest temperature that they'll legally allow me to, so it keeps all your good probiotics intact," Brant said. "One reason a lot of the big guys don't do it in a vat is they just simply don't have the time, because it does take longer than if you did an HTST (high-temperature short-time) system where you just zipped it in and out. But you lose a little bit of quality when you do that."
Brant guarantees his customers can tell the difference.
"Especially if they buy mine for a while, and then they have to go back for some reason. It's ruined it for them — in a good way, at least for me," he said with a laugh. "That's when they can really see a big difference is once they get used to it. But it's night and day."
After growing up on a farm with his dad, Brant now has the time to do the same with his two young kids — thanks in large part to his partnership with Market Wagon.
"Even when I was little, my dad took me out working with him all of the time. And you can pick up on the way he did business and what he valued, and that just has trickled down to me. I have two kids of my own, and when they get old enough to go out with me, maybe it'll trickle on to them."
So give the delicious creamline milk from the happy and healthy cows at Stooksbury Dairy Creamery a try. Brant sells whole milk in several different sizes as well as chocolate milk. He also sells buttermilk which is delicious on its own and is great for cooking and baking too.