While lake effect snow is known for making a significant impact on communities in terms of dumping a large amount of white stuff on the ground, Lake Effect Kitchen is making that type of impact week after week. But even more than the delicious chef-prepared meals, the kitchen's most important impact is felt in the lives of its employees. Many are young adults on the autism spectrum disorder and/or have other special needs.
By partnering with Market Wagon, Lake Effect Kitchen has seen sales increase by 50 percent. Plus, the kitchen is able to deliver to hungry customers in Grand Rapids, Kalamazoo and Muskegon for the first time from its physical location in Grand Haven.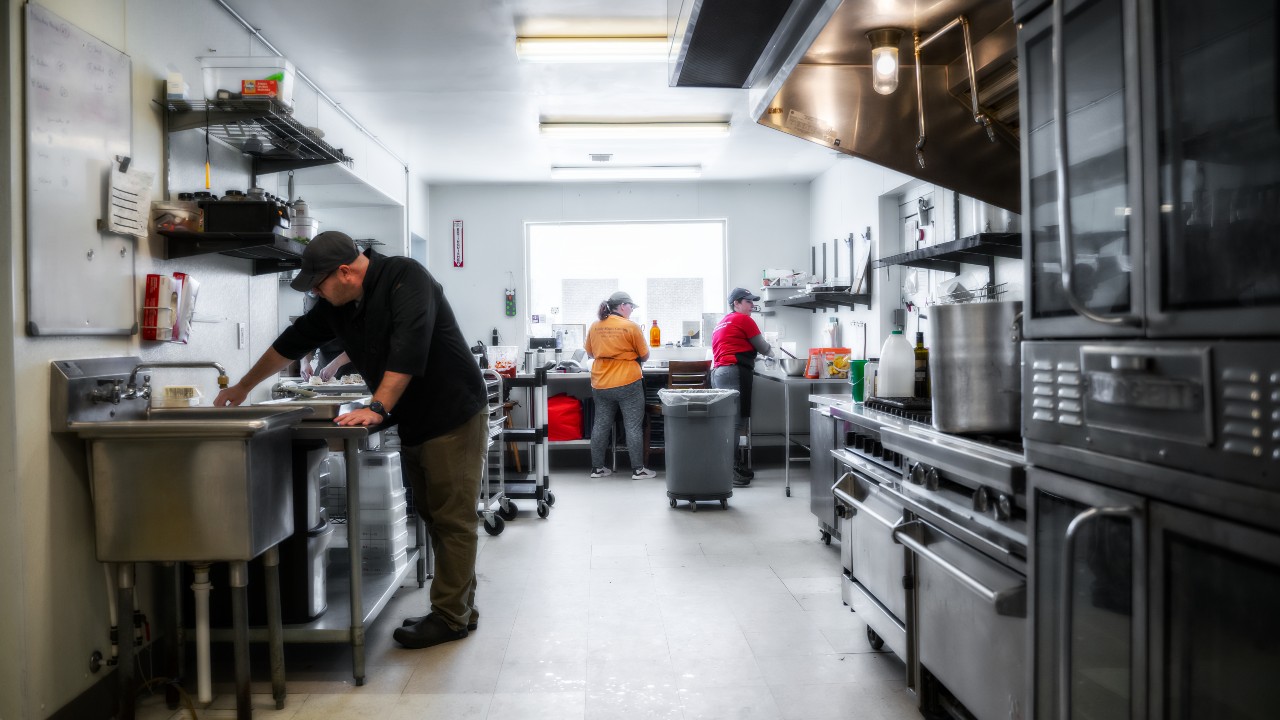 The founders of Lake Effect Kitchen are Aaron Johnson and Mandy Anderson. Aaron is a professionally trained chef. Mandy is a former journalist with experience in public relations and a strong business acumen.
"Teaming up with Market Wagon has taken us from a small operation with a big idea in a lakeside community to a successful regional business with a solid foothold in the Grand Rapids area," said Mandy.
The vision of Lake Effect Kitchen comes from their personal lives. Both are the parents of autistic children and have made it their personal mission to provide opportunities to young adults—no matter their ability—to contribute in the world.
Aaron and Mandy created an inclusive culinary education program to further the belief that everyone belongs. By employing and training autistic youth to work for their business, they provide invaluable life skills, confidence, and opportunities for greater independence than would otherwise be possible.
As anyone who has ever worked in the restaurant business can tell you, many lessons can be learned just from being around a kitchen–from time management and juggling shifting priorities to food preparation and customer service. The youth who work for Lake Effect Kitchen benefit from it all, helping them in every aspect of their lives.
Of course, this doesn't mean every day goes smoothly or that there aren't real challenges—but then again, meaningful work never comes without challenges! It requires a special brand of management that Mandy and Aaron are uniquely qualified to provide as parents of autistic children. Patience, tone, and a keen awareness for how their employees are feeling at all times are essential to developing their employees
The other part of the vision and mission of Lake Effect Kitchen is to impact the entire community by taking autism awareness to the next level—introducing and acclimating customers and the general public more personally to people with intellectual disabilities. By making autism the face of their business, Mandy and Aaron are nurturing a more thoughtful understanding of the remarkable young people who face its challenges every day.
Through simple business transactions and interpersonal exchanges, customers experience the who of autism, and how everyone can play a part in helping them overcome those barriers.
But Aaron and Mandy aren't done. They recently bought a vintage trolley from the city at auction and are repurposing it to become a unique food truck that can take their fresh delicacies on the road and meet new customers.
"Since Aaron and I started Lake Effect Kitchen in 2017, we have always focused on the delivery and catering side of the business," explains Mandy. "This set us up well for sustained success after the initial shutdown of the pandemic. But our growth through Market Wagon actually gave us the capital to get creative and make the trolley idea a reality."
It means Lake Effect Kitchen will soon be able to take their operation wherever they want, all while advertising their business in a fun and memorable way, along with every mile of the journey from Grand Haven and back.
Be prepared to be surprised every time you check out the Lake Effect Kitchen menu on Market Wagon. It changes weekly to offer dishes that highlight the best produce of the season.
But whether it's Stuffed Shells with Mushroom Alfredo, Shrimp and Quinoa or their Cuban Pork Steak with Black Beans, Rice, & Plantains, be prepared to enjoy an imaginative, mouth-watering choice. Each is ready to heat and eat.
In fact, one of the best ways to truly enjoy the food at Lake Effect Kitchen is by buying a meal pack. There's a five-meal pack which includes a quintet of single-serving meals, chef's choice, which come from the week's offerings (and at a discount compared to buying individual dishes. There's also a meal pack for two which includes a trio of pairs of meals from the week along with either two pints of soup or two garden salads.
If you're looking for something to pick out for yourself, there is one legendary dish you will find showing up regularly on Market Wagon: Jalapeno Chicken Soup. It's one of Chef Aaron's specialties that keeps customers coming back for more. You won't have any luck convincing him to share his secret recipe, but you can absolutely discover just how delicious it is by ordering for yourself.
That's just one of many savory meals you can proudly put on your dinner table, delicious and hassle-free, courtesy of Lake Effect Kitchen. Now, thanks to Market Wagon, that "lake effect" impact extends well beyond the turbulent weather patterns of the Great Lakes and can be dropped off at your front door.
As Mandy and Aaron like to say, "Eat Well, Do Good" by supporting their inclusive culinary educational program that believes everyone can contribute, everyone is valuable, and everyone belongs. And that's the sort of lake effect impact everyone can appreciate–with a spoon and fork instead of a shovel.
​