Justin Bajema will never forget the date he began infantry training. He was a young Marine who had just graduated boot camp. It was Sept. 11, 2001. Yeah, THAT 9/11. While his superiors informed the new Marines about what happened, it wasn't until days later when he finally saw images of the Twin Towers collapsing that it all really started sinking in.
Justin served two tours in Iraq amid some of the most dangerous days for American troops. The first time he was injured was during a nighttime mounted patrol in August 2004, one of 100+ combat patrols with his platoon. Justin's vehicle lost control and rolled over into a canal where he was pinned underneath the heavy vehicle and turret for 45 minutes. His body armor saved his life.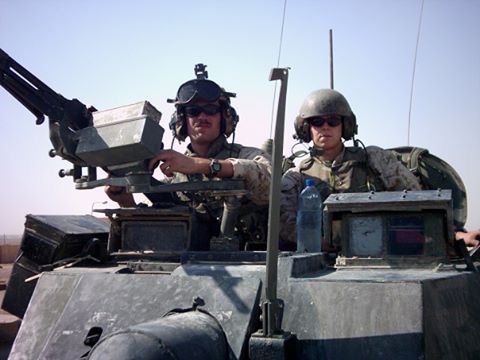 If Justin was fortunate then, the second time he was injured, he was truly lucky to not lose his life. On Nov. 29, on another nighttime patrol, he was ambushed by a large IED blast which severely injured him and several others and destroyed the infantry fighting vehicle he was commanding.
He was airlifted from Iraq to Germany and eventually back to the United States and the Bethesda National Naval Hospital. President George W. Bush presented him with a Purple Heart for his injuries sustained in combat.
It wasn't easy though. While he was not killed, he required many weeks in the hospital and eight surgeries. Then he had to learn how to walk again. He was forced to take a medical retirement, something that was difficult for someone who was the fourth generation in his family to serve in the military.
"PTSD is a real thing for combat veterans," Justin says.
To get his life back together after war, he turned to entrepreneurship and built a successful real estate business. When the pandemic began, Justin and his wife Jennifer decided they had to do something more: start a business which would come from the heart. With the shortcomings of a global supply chain exposed, they began Rebel Pastures to bring a local answer to that problem to their friends and community.
Farming had become a newfound passion for Justin. He sees raising true pastured-raised chickens using natural methods, rotational grazing and no antibiotics as an extension of what he did as a Marine – a commitment to service. In fact, it's even where Rebel Pastures gets its name because Justin sees it as a rebellion against Big Ag and our broken food systems.
Justin says all of his hard work on the farm has the added benefit as functioning like daily ongoing therapy for his wartime experiences.
"There's something truly special about working your land," Justin says. "I am more settled. I am more at peace. It's not just a business. It's a lifestyle."
By partnering with Market Wagon, an online farmers market, Justin gains access to every home in a seven-county region of West Michigan including Grand Rapids and Kalamazoo. And demand since the pandemic has exploded, resulting in Rebel Pastures currently raising about 3,600 chickens from the roughly 300 birds he was raising previously.
Justin recommends the chicken breasts which are both boneless and skinless and guarantees you'll taste the difference. Another fan favorite is the poultry sampler which includes drumsticks, thighs and breasts.
So with Veterans Day next week, there's no better time to support a local veteran like Justin Bajema, a Marine and Purple Heart recipient, lucky to be alive, who is now serving his community in a new way, one delicious pasture-raised chicken at a time.
The Market Wagon team wants to honor all veterans who have partnered with us in each of our locations.