Everything changed in an instant for Eric Boltz. The Ph.D. scientist—as well as competitive cyclist—was biking on a training ride in 2015 when he was hit by a car and paralyzed from the chest down. Eric and his wife Yvonne (also a scientist and self-proclaimed geek) were determined to do their best to resist despair and anger.
Now they look to give back to other people with disabilities by offering a proverbial light at the end of the tunnel with cooking classes and other accessibility experiences at Boltz to Nutz Farm. By partnering with Market Wagon, Eric and Yvonne are able to expand their network of customers with minimal amount of time invested—which is no small thing when you're trying to start a new farm!
Eric and Yvonne met when they worked together at a small tech company. They were married in 2006 and for almost a decade worked together in several successful businesses.
But perhaps their biggest shared passion all along was cooking. Wherever they lived, they kept a sizeable garden in their backyard. And every Sunday, they would spend the entire day cooking a variety of meals for themselves and their family for the following week. At the time of the accident, Eric was racing in about 40 competitions a year with a local Cincinnati-area bike club.

After he was paralyzed, Yvonne provided support through all the ensuing highs and lows. As a sign of their unwavering dedication to each other and their vows "in sickness and in health," they remarried in 2016 in the same location.
In 2019, they bought a small 11-acre farm in Hamilton Township near Loveland to start over. They wanted to build a handicap-accessible home with the ability to farm, garden and even develop some trails for Eric to ride with his handcycle.
Like all big dreams, creating Boltz to Nutz Farm from scratch has taken time, especially when the pandemic hit a few months later. But the mission has always remained the same: to create a biodiverse farm which restores the soil and land, and where every creature, from the snakes to the deer, is part of a healthy ecosystem.
Of course, life on a farm wouldn't be complete without a few guard dogs to protect some of the vulnerable creatures like hens. For Boltz to Nutz, it's a pair of Great Pyrenees named Rio and Tinto.
Eric and Yvonne continue to work to bring accessibility to more places around the farm too. There's already a wheelchair-accessible kitchen where they can work with people who have recently been paralyzed or are otherwise disabled to help them achieve a greater sense of independence and a glimpse of what the future could look like. The first cooking class with Boltz Strong, a registered nonprofit, is set for August.
"The first two years after being paralyzed, it's just a long, very long, grieving process," said Eric. "We want to provide a light at the end of the tunnel so people with disabilities can know there's hope and better days ahead."
The name, Boltz to Nutz, is a wordplay on the 'everything from soup to nuts' phrase. And it fits, because the farm grows just about everything. Yvonne loves planting vegetables that other people don't—whether it's purple tomatillos or blood sorrel.
Yvonne first heard about Market Wagon when she became a customer during the pandemic. As the farm continued to grow, it felt like a natural fit.
"I don't have time to spend all day at the farmers market," Yvonne said. "I can wake up on Wednesday morning and know exactly what I need to bring on Thursday. It also helps me reach a lot more people than I otherwise would too."
Yvonne estimates that Market Wagon accounts for roughly 65% of sales at the farm. It provides a reliable source of income as she and Eric work on other projects at Boltz to Nutz Farm including making wider pathways in the garden for wheelchairs as well as creating accessible beds which are at the perfect height for someone with a disability.
"We want to be a place of healing and happiness," said Eric. "We want to provide some solid ground to people who need hope, a second chance, or just some time to heal."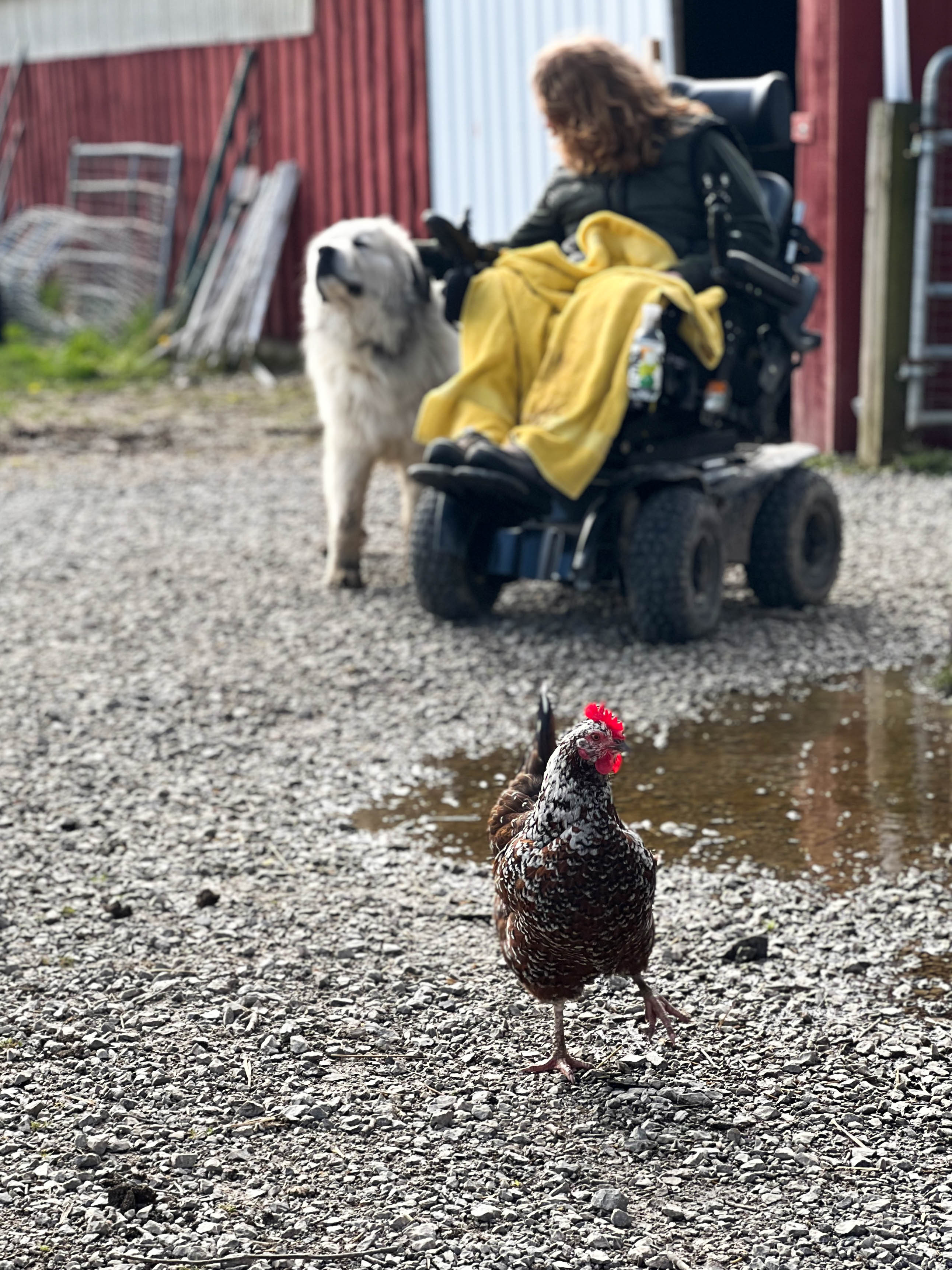 Once some additional living quarters are built, Eric and Yvonne hope to partner up with local hospitals to offer a real-world living situation for someone who is recently disabled so they can better understand what tools or gadgets may help them become better self-sufficient.
Eating healthy is extremely important for someone in a wheelchair too—but it's also extremely difficult. While even a fully accessible kitchen in their shop doesn't make cooking with a disability easy, it makes it possible.
When it comes to the foods offered on Market Wagon, Yvonne says customers should look no farther than fresh chicken eggs, which are the definition of free-range. They have about 4.5 acres of fields and forest to find insects and grubs. It seems appropriate that 2 of the 43 chickens at Boltz to Nutz Farm are disabled—yet are still valuable egg-layers (no promises you're going to be getting Gloria or McMuffin's eggs in your order however!).
Yvonne also recommends the early summer mixed produce bag. It's a carefully curated basket of the absolute freshest items from the farm. As an added bonus, the basket often comes with recipes, especially if it includes a vegetable that's a bit off the beaten path.
Boltz to Nutz also offers a variety of hemp salves. Eric recommends Relieve for general skin care. He finds it soothes the itchy neuropathy which is associated with his paralysis.
Eric and Yvonne always welcome people to visit Boltz to Nutz Farm. They are open every Sunday afternoon from 2 p.m. to 5 p.m. but if that doesn't work, people are always welcome to reach out and schedule a time.
​