For three generations, Dale Woolf's family has been planting and harvesting apples and other delicious fruit in the rolling hills of eastern Ohio, halfway between Cleveland and Pittsburgh. From humble beginnings of just 50 trees planted by Dale's grandfather in 1954, the orchard at Woolf Farms has grown to 200 acres 90 varieties of apples along with strawberries and blueberries. He even has 20 acres of peach trees, which are difficult this far noth, but completely worth it for the flavor.
But, if not for a partnership with Market Wagon, the farm may have gone under during the pandemic when his biggest customers were unable to access his fruit. Instead, Dale was able to use Market Wagon's online platform to directly connect with customers in Northeast Ohio and Western Pennsylvania, saving the orchard.
Growing fruit is not easy, especially as far north as the Ohio. Freezes and frosts are constant worries in the spring and fall. If temperatures fall below zero, it can be a big problem for many of the trees in the orchard.
"We have to do a lot of praying," says Dale.
But when the weather cooperates, it's well worth it. Dale tries to use as many of the same methods as his grandfather did a half century ago, making it as natural of a growing process as possible.
Many customers take one bite and are hooked for life, often exclaiming, "I didn't know apples were supposed to taste like this!"
When COVID hit, between traditional farmers markets closing and local schools who no longer needed to buy apples for their students, Woolf Farms lost 90% of its business almost overnight. Dale says it looked like much of his fruit may have rotted in the orchard until another farmer told him about Market Wagon.
"It's been a real lifeline, not just to our farm to move produce, but to our customers," Dale says. "They want access to local food but don't feel comfortable going to farmers markets anymore because of medical concerns."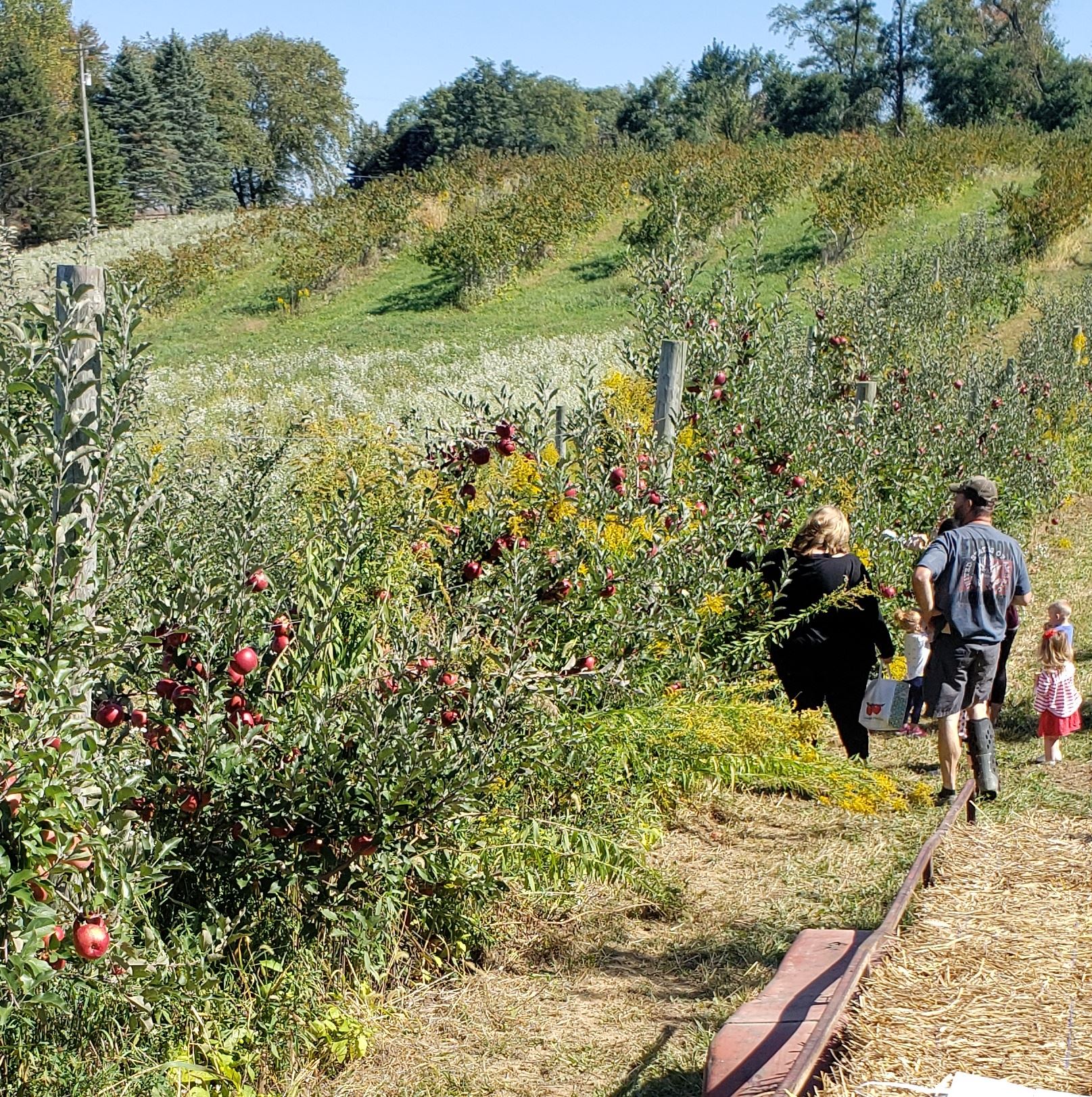 Dale says Market Wagon has really bumped his sales, especially during the winter months. It also connected him to a large pool of customers in the Cleveland and Pittsburgh regions, many who don't go to farmers markets.
"It's been a blessing for our family and farm," Dale says. "It made us not have to rely on a single source of income for the whole farm."
Woolf Farms tried to set up their own home delivery service at one point but found it wasn't efficient enough to be profitable. By contrast, Dale has found Market Wagon easy to work with and very easy to fill orders. Plus, he's been surprised at how many customers message him with questions or compliments, which are an added bonus.
Dale promises that almost all of his Market Wagon orders are picked within 24 hours of delivery. None of the fresh fruit like strawberries or blueberries are ever refrigerated. The only exception are apples because they have a much longer shelf life.
If you're looking to taste some sweet produce and generational legacy at Woolf Farms, Dale recommends the yellow Gold Rush apples which are super crunchy and a nice mix of tart and sweet. The red Evercrisp apples are also a popular variety because they are a cross between a Honeycrisp and a Fuji apple, so they are also very crunchy, sweet with a hint of tart.
Woolf Farms also sells apple cider which is perfect for heating up and drinking on a cold winter's day.